"Technological Solutions for Progressive Organizations"

Alliancef helped this NGO in building a robust, scalable, highly secure B2B/ B2C, e-commerce website by integrating it with back-end client legacy systems and affiliate partner & credit card payment systems.

Refine, redesign, or start new. We develop the look and feel to make your website attractive, usable, and engage your audiences, and will help you effectively publish your information.

Manageability:

Managing your content on your website should be as simple as cut, paste and publish, without sacrifice to artistic consistency, branding and professional design. All of our sites are, at their core, sophisticated yet surprisingly easy-to-use content management systems. Put simply, this means that your site, complete with all its content and features, is easily managed, created and edited online by any staff member without the knowledge of HTML or any other software tool.
Once your site is completed, you can designate and assign content editing rights to departments or individual users. This allows specific departments/individuals to easily update their own content in the site without affecting the design layout.

Innovative Online Tools:

We incorporate simple and intelligent tools to make online publishing as easy as writing an email. With intuitive tools we seek to empower our clients to easily share, maintain, and collect information without the explicit need for in-house technical expertise.

Sustainability:

Sustaining an internet plan over time requires not only a strong foundation but also flexibility. We build websites on a system that supports growth and change, to match your organization. Powerful features can plug-in and be switched on and off as required.
The website architecture will be modular and scalable for future inclusion of additional features.

Training :

No matter where you are in the world we can give you first class training on how to take control of the content on your website. Insightful video and written documentation ensure easy management. We make ourselves virtually available online in many ways and can instantly trouble-shoot with you as if we were in your office.

Odds and ends: Domain Names, Hosting & Email:

Alliancef takes care of all these odds and ends for you. We will set up website hosting and backup for any client, including Pop3/IMAP email for your domain.

Let's Get Started !! Take a small step today and contact us NOW and we will provide a completely new way of receiving Funds for your NGO / Nonprofit.

Please contact us with details regarding your project. or Email us.


Featured Project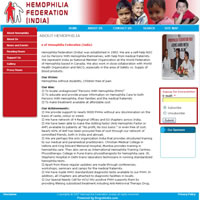 www.hfindia.org
Hemophilia Federation of India